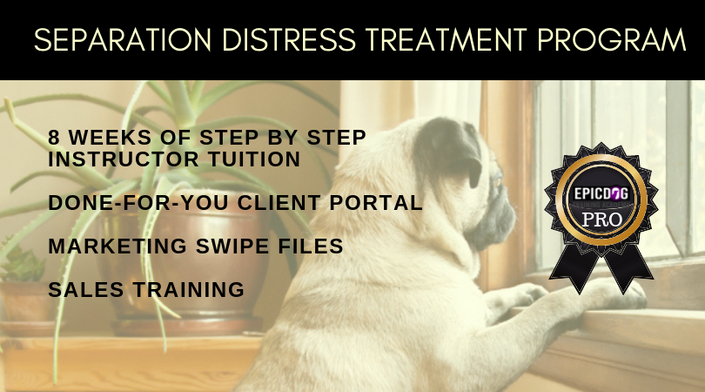 Separation Distress Treatment Program For Dog Trainers & Behavioural Practitioners
Step By Step Instructor Tuition & 'Done-For-You' Client Portal
Enroll in Course
Become A Separation Distress Specialist
Separation Distress is the second most common behavioural issue in pet dogs.
Most practitioners don't like to take on these cases for fear of poor results, worry that clients just won't do the necessary hard work, or a belief that these dogs can't be helped unless the owner works from home or pays for expensive daycare.
I think all practitioners will agree that not addressing this problem is the cruelest of all - leaving suffering dogs and owners.
Management by avoiding absences is a band aid, but doesn't solve the route emotion and unfairly restricts everyone.
Treatment is perfectly doable, and very successful - you just need to know how to do it so it WORKS.
This Program is for practitioners who want to access this comprehensive treatment approach to Separation Distress.
The unique Done-For-You approach means you have the tools to learn the program at your fingertips, and can then immediately get to work helping dogs without the restriction of location. You get to serve clients at a superior level by having an Online Learning Experience ready for them to step into from anywhere in the world.
Contrary to popular belief, you do not need to be in the clients house to help them IF your leaning experience is expertly designed. It's actually helpful if you aren't (my nearest client lives 5 miles away - and we still conduct all of the treatment online as it simply works better).
You Can Do All This WITHOUT...
Spending years learning about and actively treating separation distress (I have created the blueprint, made all the mistakes and spent the money for you)
Developing your role as a human education facilitator (I have provided the fast track for you)
Learning to designing a curriculum (You have my hard earned platform to use)
Learning (and being brave enough) to record, edit and produce videos!
Sourcing a hosting platform & creating an entire Online Course (Believe me, that's WORK!)
Accrediting and getting approval for your work
and so on...
So What Exactly Is Included For You?
Understanding & Treating SD 101: All the stats, what causes it, what it's commonly mistaken for and case studies.

8 x weeks of Instructor Tuition (delivered in easily digestible video format) so you can guide your client seemlessly and expertly through the program, knowing EXACTLY what to do, teach, say and set as homework each week.
Tech made easy: Exactly what tech to use to help your clients anywhere in the world.
Marketing Swipe Files: To use on your social media (and a sneak peak into using FB to attract your ideal clients)

Sales Training: So you know how to turn that person who needs your help into a paying client.

Master Facilitator: How to be an amazing coach and ensure your clients have a superiour learning experience

Immediate and lifetimes access (including updates)
How to: Conduct consultation and make a diagnosis virtually, including video diagnosis and case study. Set up a wellness plan for your clients to create a solid base for launch, identify, desensitize and chain pre-departure cues, splitting criteria and moving on, b

uild duration & d

eal with frustration, keep data, set parameters and lifestyle goals for your clients, know when we are ready for the first absence, build a daily training plan, recognise signs of stress, raise confidence, desensitise expertly, create and heel the attachment, ask for further help, liaise with vets with confidence and professionalism... and so much more.
🌟 BONUS 🌟
Because I'm all about RESULTS for you, the Practitioners who enroll on this program also get access to my Genesis Program... trust me - this is GOLD for you guys, and I want serious practitioners to have access to this info.
It will teach you how to get ahead of the competition in 5 easy steps, outline your pricing easily, how to bring regular cash injections into your business, marketing and program design essentials...and seriously up level your business game.
You are totally welcome.
Who Is This Program For?
Dog Trainers & Behavioural Practitioners who have/are/can:
✔️Already working with 121 clients treating behavioural problems and would like to add SD to their skill set, or up-level their knowledge, skills and results.
✔️Have a full understanding of Learning theory, operant & classical conditioning, punishment and reward.
✔️Have a good understanding of dogs and people, including body language, signs of stress in dogs and motivation
✔️Know how to gather appropriate case history
✔️Explain & demo activities to individual learner ability
✔️Relate to and support clients compassionately whilst leaning.
If you do not you have these skills, you might want to consider our Behaviour Education & Practical Skill Program in addition or first.
What exactly Do Your Clients Get?
Your clients get access to a Client Portal: An 8 week Online Course, which guides them through the journey along with you, one week at a time (of course - you get a copy of exactly what your clients will be able to watch inside your Instructor Program). That way - the time you spend working on the session topics, knowing the client is being educated and is full engaged in the process.
A 121 with you weekly (Arranged at your convenience and using online software).
How Do Your Clients Get Access To Their Portal?
After you make a sale you just send your client an email containing the link, and issue them with your unique VIP CODE and they can enroll right away.
After that you just schedule your first 121 session with them, and set homework to watch the first two modules BEFORE your first lesson.
Are You Ready To Start Your Journey?
Choose a payment option to suit you and get immediate access.
Have a question or need to know more? Contact me on 0141 2395182 or [email protected] and lets have a chat.
I'll see you on the inside,
Christina x
Meet Your Instructor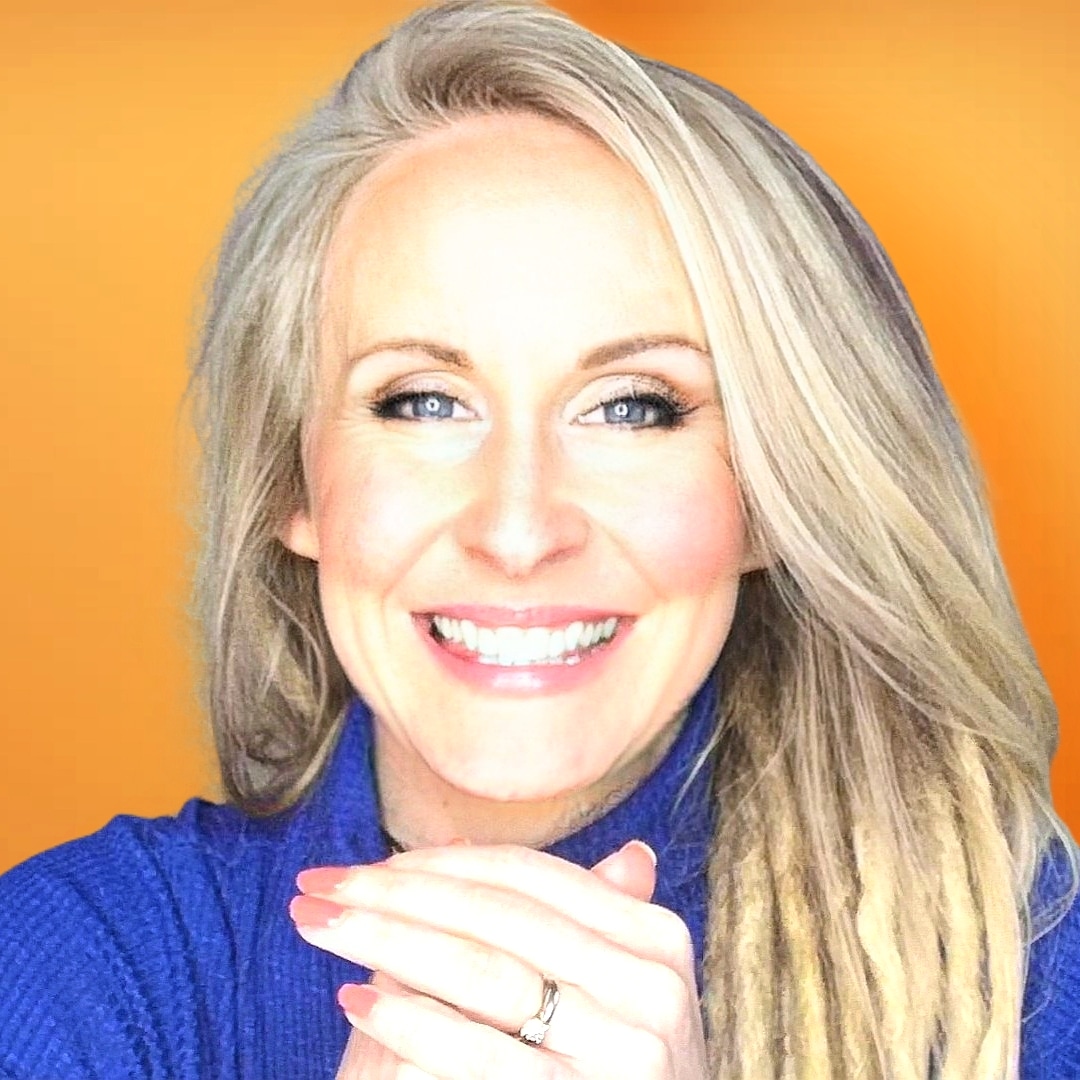 Canine Behavioural Practitioner & Founder of EpicDog Training Academy
MCFBA: A full member of the Canine and Feline Behaviour Association
GoDT (M): A Master Trainer with The Guild Of Dog Trainers
Council Member and Accredited Learning Center of the PETbc
Member of The CPD Certification Service providing recognised independent CPD Accreditation.
WSDA: A World Scent Dog Association Instructor
FFTT: A Force Free Trick Training Instructor
Superdogs Instructor
18 years experience in Behavioural Modification